Mari loves sharing tunes and ideas with fiddlers and musicians all over the world! She teaches frequent workshops at fiddle camps, on tour, in her home town of Boston, and via the internet in her special 4-week online seminars. You can book Mari for a workshop via her Booking page, and find upcoming workshops to attend on her Calendar page. You can also scroll down to see any Online Seminars currently enrolling, and even get in touch to schedule your very own private lesson now!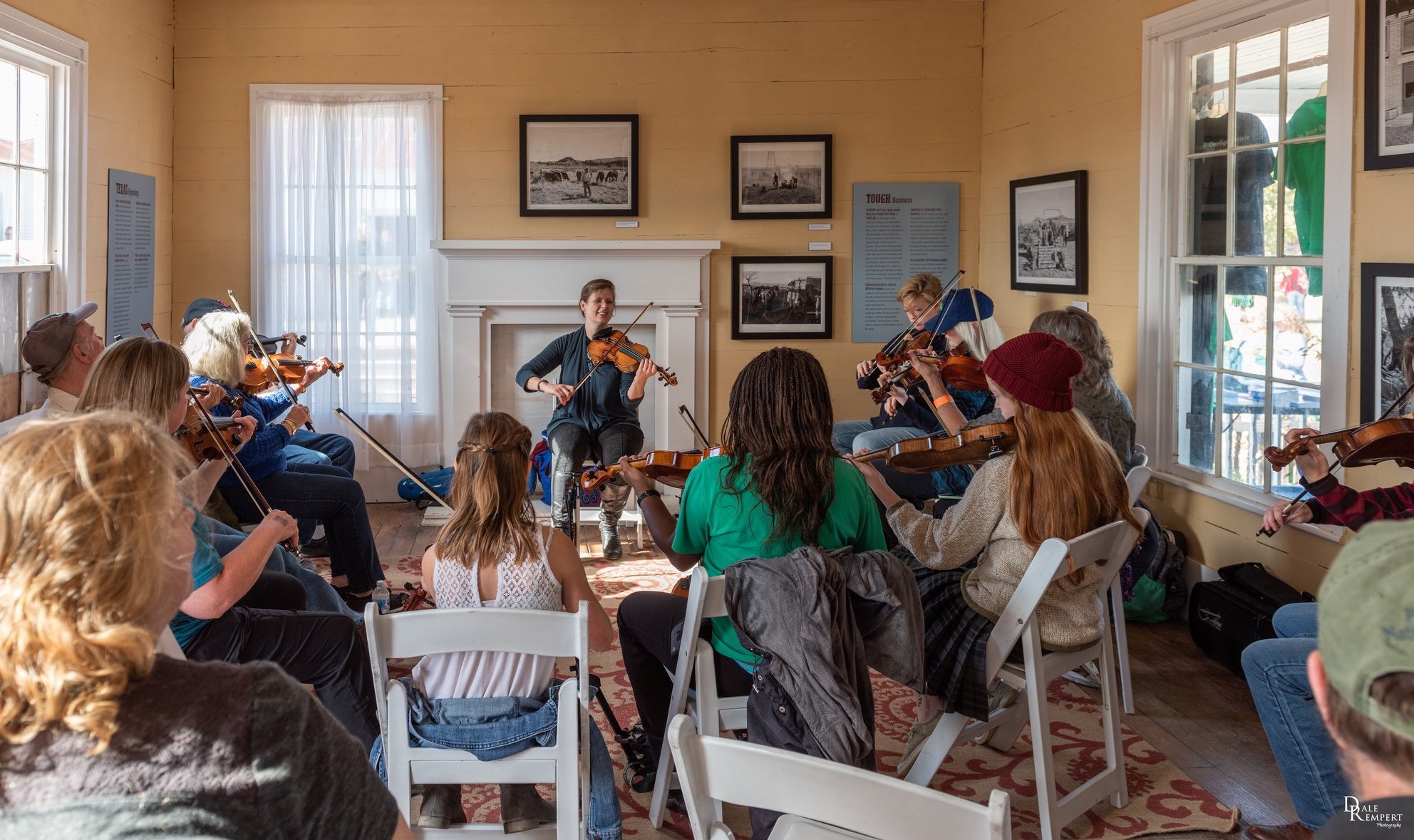 Photo By Dale Rempert Photography
Mari's teaching appearances include:
The Swannanoa Gathering
The Acadia Festival of Traditional Music & Dance
Jink and Diddle School of Scottish Fiddling
The Rockport Jazz Camp
Boston Scottish Fiddle Club
New York Irish Arts Center
Strathspey & Reel Society of New Hampshire
Tune Supply
Make Music Day, San Diego
Julian Family Fiddle Camp
Austin Celtic Festival workshops
Yachats Celtic Festival workshop
Mark O'Connor Fiddle Camp
School for Strings, New York
Yale School of Music, Interdisciplinary Seminar on Rhythm
Boston University, College of Fine Arts
Kinhaven Music School
American String Teacher Association Conferences
...and more!
Mari now offers Online Seminars, so you can study with her right from the comfort of your own computer! Seminars typically run for 4 consecutive weeks. Mari's signature "Universal Fiddle Skills" Seminar series covers core topics such as mastering bowing technique, ornamentation, "'comping" (accompanying), learning by ear, how to better coach yourself as a self-directed fiddler, and more. The "Dial in the Style" Seminar series focuses on in-depth exploration of different musical styles through repertoire. New in the Fall of 2022, Mari is introducing the "Advancing Explorations" Seminars, a special series of topics geared towards folks who have already taken other seminars and want to continue evolving their skills in fun new ways. All Seminars include live weekly classes via Zoom video (each class session is recorded, so you can reference it later), recordings and supporting materials to practice with in between classes, and -- best of all -- a chance to get private, personalized feedback from Mari on your playing!


Fall Seminars enrolling now:
(Scroll down to the FAQ's section for details on Seminar offerings, including cost, class materials you'll receive, what to expect, Mari's teaching approach, and more!)
NOVEMBER

Dial in the Style: Spirited Scottish Dance Tunes | NEW!
TUESDAYS, 7:00-8:15 p.m. EST
November 7, 14, 21, & 28

ANY TIME!

Seminar Gift Certificate

Purchase a gift certificate for that special musician in your life (or yourself!) to attend one of Mari's 4-week Online Seminars any time in the future!
Is there a particular Seminar topic that you would especially like to see offered? Let Mari know by filling out this quick survey! She welcomes your requests, and your input will help her shape the future Seminar schedule!


SEMINAR DETAILS:
FAQ's:
▼
What is the cost of a 4-week Online Seminar?
The investment for an Online Seminar is $200. Each seminar lasts 4 weeks and includes:
- Live weekly classes via Zoom video
- Video recordings of each class so you can watch or reference later
- The opportunity to submit weekly videos* directly to Mari for some personalized coaching and feedback on your playing

Each class meeting will always include time for questions so you have lots of support as you're working on the seminar material.

(*NOTE: Sending in videos for feedback is totally optional, designed for those who are comfortable and would like the extra personal attention :)).
▼
How do I register for a seminar?
Seminars that are currently being offered will be listed in the "Enrolling Now" table above. Simply click on the "Pay Now" button for your desired Semiar, which allows you to register and submit your tuition securely using PayPal or credit card. Once you register, you will receive an email directly from Mari with the link to the seminar Zoom meeting and any other info you need to be ready for the first class. You can expect this email within 24 hours after submitting your class tuition. If for some reason you don't receive a confirmation email within 24 hours, email info@mariblack.com and we'll be right in touch to help you.
▼
What if I can't make it to the live Zoom video class?
Don't worry if you're running late for class or have a scheduling conflict with the live Zoom session — Mari will be recording each class and sending it out immediately after, so anyone who is absent / late / simply wanting to review the material during the week can re-watch the class whenever they like. Ah, the magic of the internet!
▼
What is the level of each seminar?
Mari's Online Seminars welcome players from a wide range of levels and musical backgrounds! In the past, we've had professional-level fiddlers looking to polish their skills or explore a new style, classical players who want to try out some fiddling for the first time, folks who have only played a few months but are eager to learn new skills, and everything in between — all have found Mari's seminars to be both accessible and challenging! For some seminars, Mari will suggest that you already have certain level of comfort/facility in order to get the most out of the class. Please refer to the detailed description for each seminar to see if it might be a good match for your current skills.
▼
What instruments can take part?
Most of Mari's seminars welcome any melody-playing instrument (i.e. violin/fiddle, 'cello, flute/whistle, accordion, etc). A few seminars focus on bow techniques ("Bow Like A Pro", "Back Up the Band") and are therefore designed specifically for bowed string players (i.e. violin/fiddle, viola, and 'cello). Please refer to the detailed description for each seminar to see if would be a good fit for your instrument.
▼
How will tunes be taught in each seminar?
For most seminars, Mari will provide both reference recordings and sheet music for the tunes we explore, so you can learn them by ear, by reading, or both — whichever way you are most comfortable! For the seminars that focus specifically on how to learn by ear (like "Catch What You Hear" or "Back Up the Band"), there won't be any sheet music provided, but Mari will help you learn the techniques you need to listen to the tune and figure out how to play it on your instrument. That may sound scary right now, but with practice, you'll get better at it, over the course of the Seminar and beyond!
▼
Can I purchase access to past class videos/materials?
At the moment, there is not a "view later" option available for the Online Seminars. This is because Mari tailors her teaching carefully to the small group of folks who are participating during the active 4 weeks so that everyone gets lots of individual support during the live seminar. If you're interested in taking a particular seminar that is not currently enrolling, be sure to let Mari know, as she plans upcoming seminar offerings based on popular demand!
Hear from some past Seminar participants:
"
Mari is a fantastic teacher!
She has an adept way of breaking down concepts and teaching them in an accessible way. Also, she has really mastered how to conduct a workshop over Zoom. Technology and distance did not hinder my learning at all. It was wonderful to be able to get direct, personal feedback from such great teacher and player this way."
"
This is the best learning format I've encountered
, even better than (in-person) live, and certainly better than pre-recorded. Mari gives lessons that can be returned to and mined at different levels for fresh material. The video feedback is first rate, the supporting materials are well organized. Mari is enthusiastic and extremely effective as a teacher. I really can't say enough good things about Mari's seminars!"
"
The "Expressive Tunes" seminar I took with Mari was amazing!
She is a lively teacher, and a positive and supportive coach. Every session was well planned, engaging and helpful. She offered clear and detailed instruction in class, and her individual feedback was spot on. I learned important techniques from her that no other teacher has ever taught me. Getting to hear her exquisite playing was a special bonus. I can't wait to take many more classes with Mari!"
"I've wanted to improve and bring my playing up to dance speed. Wasn't sure when I started the New England Contra Dance seminar if that was possible, but amazingly Mari got me there! The individual feedback is so helpful.
I feel like I can take what I've learned from this course, apply it to the other tunes in my local fiddle group repertoire and continue with confidence that I can play for local dances.
Mari you rock!"
"
Mari has analyzed the hows and whys of fiddle playing and is able then to teach in steps that are easy to follow.
Her knowledge is deep, her approach is broad, and instruction fine-tuned. Mari is friendly, funny, and puts students at ease immediately; she is encouraging and direct. I learned a ton in one workshop that I applied immediately to my playing and will be able to continue to work on long after the workshop has ended."
"
There is so much information packed into a short time
and Mari answered questions I could never figure out how to ask. It is extremely engaging and personal, and Mari takes time to give customized feedback which I really looked forward to each week. She is a wonderful, energetic teacher and the classes are full of fun, quirky tricks that really stick in your mind and help your music. You will definitely leave smiling and feel like you are being taught by someone who really cares about you and your playing."
Live Workshops
Mari loves teaching at camps and workshops around the country! While on tour, she gives frequent stand-alone classes and can be found on the faculty of several world-class music camps each summer. All of Mari's workshops focus on learning tunes, so you should definitely come prepared to play play play! Tunes will be taught by ear, but don't worry -- Mari will always show you how to capture the melody in your ears and fingers, and she'll even send you home with recordings and sheet music to help you practice.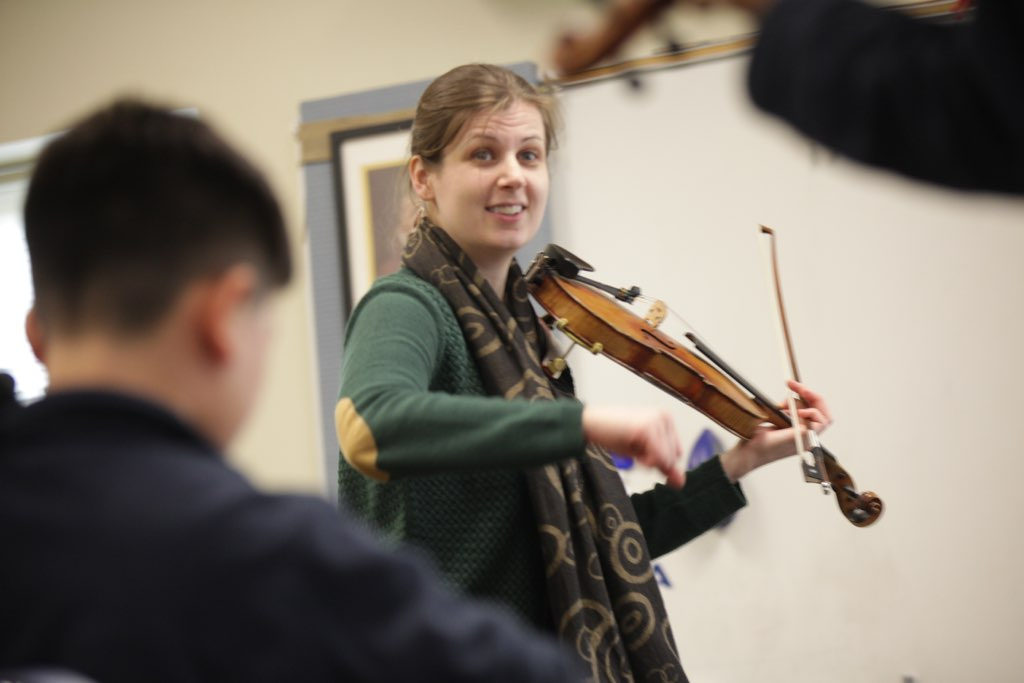 Photo By Mark Sprinkle
Mari teaches workshops on a broad array of topics, including:
Bowing and ornamentation techniques
Improvisation
"Comping" (accompanying) for string players
Playing for dances
Twin and trick fiddling
Learning quickly and easily by ear
How to coach yourself as a self-directed musician
Classes on specific regional styles of fiddling, i.e. Scottish, Irish, swing, klezmer, etc.
More special topics available on request
Workshops are open to all bowed string players (violin, viola, 'cello, bowed string bass), and often to all melody-playing instruments (flutes, harps, melodic guitar players, etc). Mari also specializes in all-level workshops that will challenge, excite, and engage fiddlers of any age, experience level, or stylistic background.

You can book Mari for a workshop via her Booking page, and find upcoming workshops to attend on her Calendar page.
Private Lessons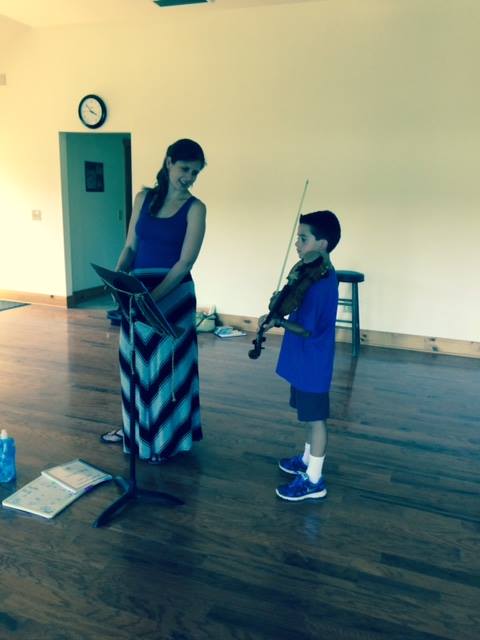 When she's not on tour, Mari teaches private lesson in her hometown of Boston, as well as via Skype / Zoom Video for those further away. Lessons are available to students of all ages and experience levels. Mari welcomes everyone, from brand new fiddlers to experienced musicians looking to explore new styles or polish their playing at the highest level.

Private lessons will focus on your individual musical interests. Mari believes in learning by doing, so you will do lots and lots of playing. You will learn tunes, improve your fiddle technique, build your improvisational skills, gather supporting theory knowledge, and expand your repertoire. Mari teaches a variety of musical styles, including various types of folk fiddling, jazz, Western Classical, tango, klezmer, and improvisation. She is happy to work on whatever types of music most interest you — they all contribute to building good violin skills.

Come fiddle for fun, improve your jamming skills, or prepare for a national competition. The sky is the limit!

Contact Mari directly to schedule your lessons today.