"
Mari is a fantastic teacher!
She has an adept way of breaking down concepts and teaching them in an accessible way. Also, she has really mastered how to conduct a workshop over Zoom. Technology and distance did not hinder my learning at all. It was wonderful to be able to get direct, personal feedback from such great teacher and player this way."
"
This is the best learning format I've encountered
, even better than (in-person) live, and certainly better than pre-recorded. Mari gives lessons that can be returned to and mined at different levels for fresh material. The video feedback is first rate, the supporting materials are well organized. Mari is enthusiastic and extremely effective as a teacher. I really can't say enough good things about Mari's seminars!"
"
The "Expressive Tunes" seminar I took with Mari was amazing!
She is a lively teacher, and a positive and supportive coach. Every session was well planned, engaging and helpful. She offered clear and detailed instruction in class, and her individual feedback was spot on. I learned important techniques from her that no other teacher has ever taught me. Getting to hear her exquisite playing was a special bonus. I can't wait to take many more classes with Mari!"
"I've wanted to improve and bring my playing up to dance speed. Wasn't sure when I started the New England Contra Dance seminar if that was possible, but amazingly Mari got me there! The individual feedback is so helpful.
I feel like I can take what I've learned from this course, apply it to the other tunes in my local fiddle group repertoire and continue with confidence that I can play for local dances.
Mari you rock!"
"
Mari has analyzed the hows and whys of fiddle playing and is able then to teach in steps that are easy to follow.
Her knowledge is deep, her approach is broad, and instruction fine-tuned. Mari is friendly, funny, and puts students at ease immediately; she is encouraging and direct. I learned a ton in one workshop that I applied immediately to my playing and will be able to continue to work on long after the workshop has ended."
"
There is so much information packed into a short time
and Mari answered questions I could never figure out how to ask. It is extremely engaging and personal, and Mari takes time to give customized feedback which I really looked forward to each week. She is a wonderful, energetic teacher and the classes are full of fun, quirky tricks that really stick in your mind and help your music. You will definitely leave smiling and feel like you are being taught by someone who really cares about you and your playing."
Live Workshops
Mari loves teaching at camps and workshops around the country! While on tour, she gives frequent stand-alone classes and can be found on the faculty of several world-class music camps each summer. All of Mari's workshops focus on learning tunes, so you should definitely come prepared to play play play! Tunes will be taught by ear, but don't worry -- Mari will always show you how to capture the melody in your ears and fingers, and she'll even send you home with recordings and sheet music to help you practice.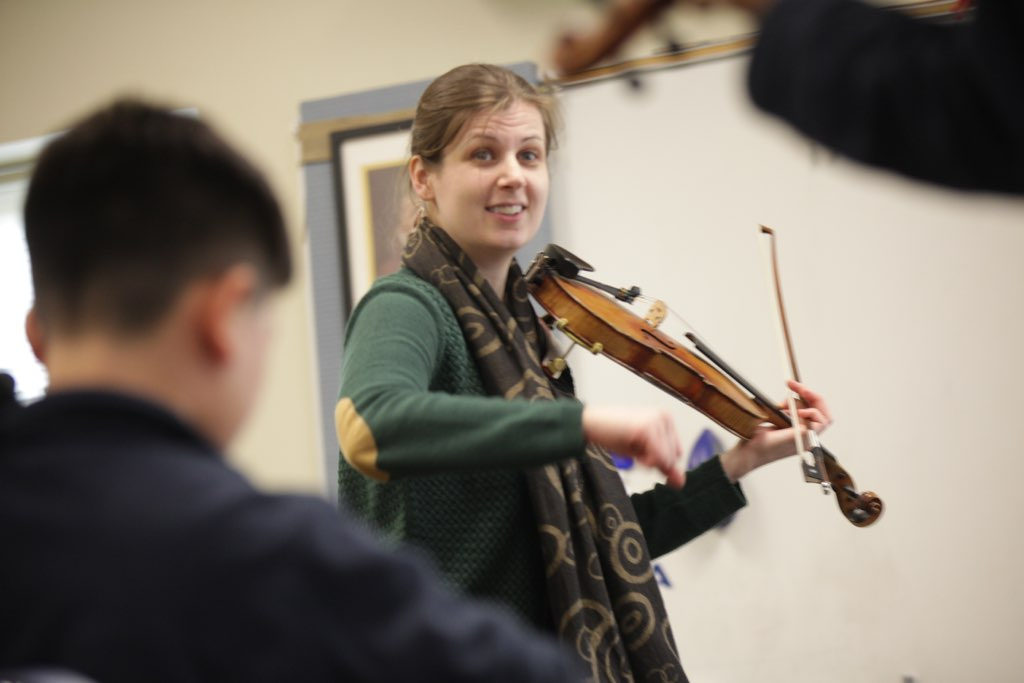 Photo By Mark Sprinkle
Mari teaches workshops on a broad array of topics, including:
Bowing and ornamentation techniques
Improvisation
"Comping" (accompanying) for string players
Playing for dances
Twin and trick fiddling
Learning quickly and easily by ear
How to coach yourself as a self-directed musician
Classes on specific regional styles of fiddling, i.e. Scottish, Irish, swing, klezmer, etc.
More special topics available on request
Workshops are open to all bowed string players (violin, viola, 'cello, bowed string bass), and often to all melody-playing instruments (flutes, harps, melodic guitar players, etc). Mari also specializes in all-level workshops that will challenge, excite, and engage fiddlers of any age, experience level, or stylistic background.

You can book Mari for a workshop via her Booking page, and find upcoming workshops to attend on her Calendar page.
When she's not on tour, Mari teaches private lesson in her hometown of Boston, as well as via Skype / Zoom Video for those further away. Lessons are available to students of all ages and experience levels. Mari welcomes everyone, from brand new fiddlers to experienced musicians looking to explore new styles or polish their playing at the highest level.

Private lessons will focus on your individual musical interests. Mari believes in learning by doing, so you will do lots and lots of playing. You will learn tunes, improve your fiddle technique, build your improvisational skills, gather supporting theory knowledge, and expand your repertoire. Mari teaches a variety of musical styles, including various types of folk fiddling, jazz, Western Classical, tango, klezmer, and improvisation. She is happy to work on whatever types of music most interest you — they all contribute to building good violin skills.

Come fiddle for fun, improve your jamming skills, or prepare for a national competition. The sky is the limit!

Contact Mari directly to schedule your lessons today.